Last night Roland was up all night long. His cold and cough rage on. If I lay him down he starts to cough, then gags, then cries, and then throws up. At 2 a.m. I brought him downstairs and sat on the couch holding him while he slept, jumping up to walk him if he started coughing. We did that for two hours.

First I thought how sleep deprivation is actually a form of torture.

Then I thought, at least I know my babies will live through this.

And that made me think of Zelie.
On October 18th, 2015, two new saints were canonized: the first married saints. Louis and Zelie Martin, parents of the youngest doctor of the Church, St. Thérèse. The Martins had nine children, but last night I was thinking about the children they lost. In just three years, the Martins buried four children, the youngest just six weeks old. They thought they would also lose St. Thérèse as an infant as well, but she lived.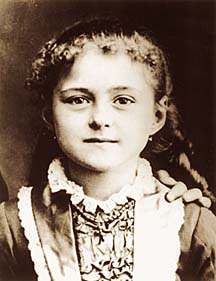 I tried to imagine what Zelie went through, up all night, many nights, with sick babies. Wiping noses, wiping tears, singing lullabies. Waking up the next day, exhausted, met with that same need again—children crying out to be held, and the whole time you know they might not make it.
I think of the mom in Little Women, who came home when Beth was sick and took charge, called her Cricket, kissed her forehead, and told her things would be alright. And the essay Laura Ingalls wrote about waking up sick and seeing Caroline smiling down at her, all through the night. And the next day she was up making breakfast, never complaining. I aspire to be this calm and loving, to reassure them in spite of my exhaustion.

Imagining Zelie ministering to her children, who are actually dying, made me think more about my role, even what a blessing it is to see them through these nights and know that next week Roland will be trying to pull childproofing plugs out of the outlets and eat them, and Lydia will be trying to ride her tricycle over her brother's legs.